Overview
This article is part of a weekly series where we document the latest updates in Kayako. Read this article to find out what has changed in week 2016-07-25.
Information
What's New?
You can now invite multiple team members from admin/people/team-directory.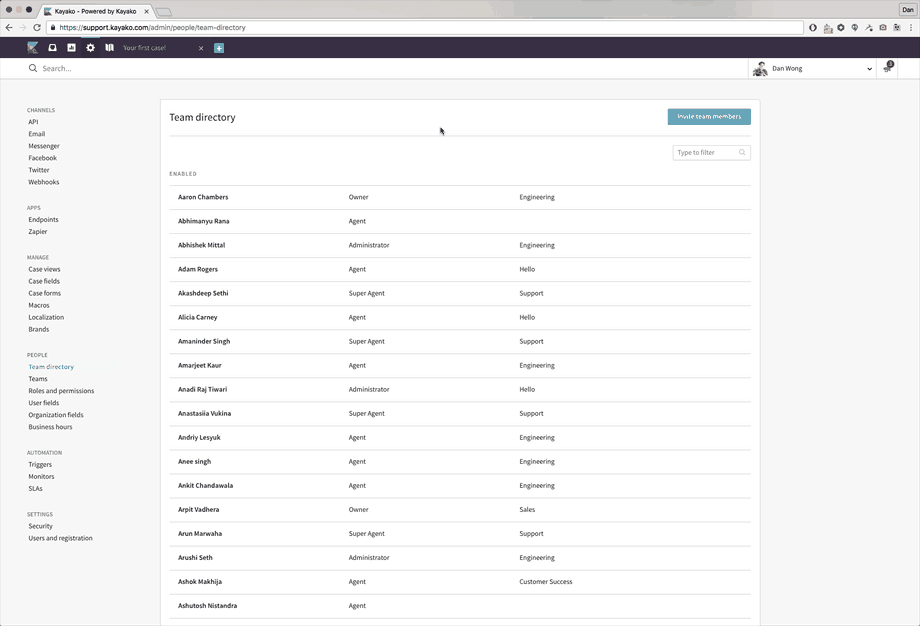 We have been optimizing how Insights work: they should now load faster.
Fixes and improvements
Kayako Messenger used to make noises every time it loads on a page. It is now silent until something attracts your attention.
If you open the filter or sorting dropdowns for a conversation timeline, your current selection will now be reflected.
Fixed links to failed searches in Insights.
Fixed an issue with searching for users in autocomplete fields.
Collaborators are now available when managing teams in Admin.
Fixed a problem where clicking links to external sites in a conversation did not work.
Avatars in Kayako Messenger will now load more consistently.
Fixed an issue where some people could not attach files to Help Center articles.
Searching for help center articles from the Agent area pulls more expected results.
Fixed an issue where the sender data in emails sent from the Airmail client were not being parsed correctly by us.
Fixed an issue where some people could not update their team members even though they were within their plan allowance.
Fixed an issue where sometimes we were not getting the right identity information from Facebook.
Brand names will now appear in the subject line when invitation emails are sent to users registering, or staff added to your Help Center.
More fixes for visuals in IE11.
Fixed a problem where values of custom fields that contain non-Latin characters would not match search queries.
Visual improvements to dropdowns in admin and empty search states.
DISCLAIMER: The names and contact information in this article are fictitious and purely meant for instructional purposes.